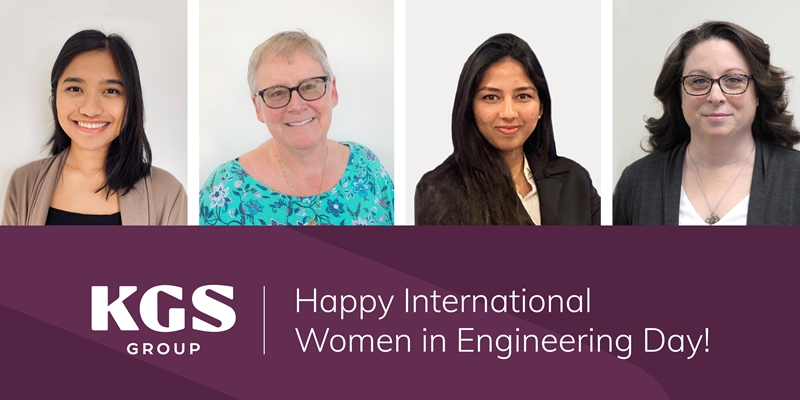 International Women in Engineering Day 2023
International Women in Engineering Day is about celebrating the amazing work that women engineers around the world are doing to support lives and livelihoods every day. Today, we are recognizing the inspiring and talented women working at KGS Group who are helping build towards a brighter future.
KGS is committed to supporting Engineers Canada's goal of having 30% of newly licensed engineers be female by 2030. To help reach this goal, the Women of KGS Committee was started in 2019 to support the community of women we have through professional development and networking opportunities. In addition to this, over 40% of our new hires in 2023, to date, are female-identifying, reinforcing our commitment to support and foster the growth of female engineers.
Meet some of the inspiring women we have at KGS and learn about their perspectives on the industry.
Nicole Mills P.Eng., Municipal Engineer
KGS Saskatoon
Nicole has been working in the industry for over 16 years in the civil and land development fields. She has enjoyed a variety of work throughout her career from industrial water management projects and municipal engineering for communities to asset condition assessments and management systems.
At KGS, she works on larger municipal infrastructure projects for institutional clients and municipalities. Read below how she is helping to build towards a brighter future for women in engineering.
"I feel we all have a responsibility to lead by example. I hope that I can provide mentorship to young women in the industry. I enjoy working with young people to determine a career path that suits them, understanding that not everyone's career goals are the same."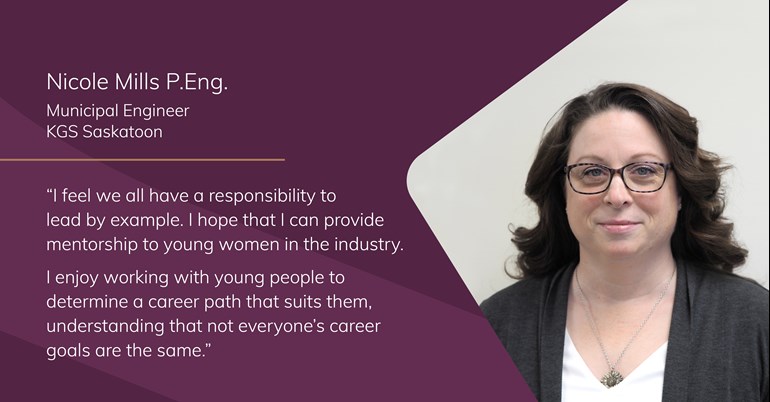 Kathryn Black P.Eng., LPEI, Senior Mechanical Engineer
KGS Regina
After graduating as one of five women in a class of 85 from the University of Saskatchewan, Kathryn was ready for a career of firsts as a mechanical engineer. At her first job, she was one of the first women to work on a mixed crew, holding positions from operations engineer to safety engineer. She was also the first woman boiler and pressure vessel inspector for the Government of Saskatchewan. With over 20 years of experience, she is passionate about seeing more woman in engineering and has worked with a lot of talented and capable female engineers.
Kathryn joined KGS in April and supports the Mechanical Group with proposals, designs, project work and business opportunities. She shares below what career advice she would give her younger self.
"Enjoy it and be the biggest sponge you can be, because the knowledge and skillset of the people around you are huge assets for your future. Never be too busy to take the time to build relationships, both career-wise and personally."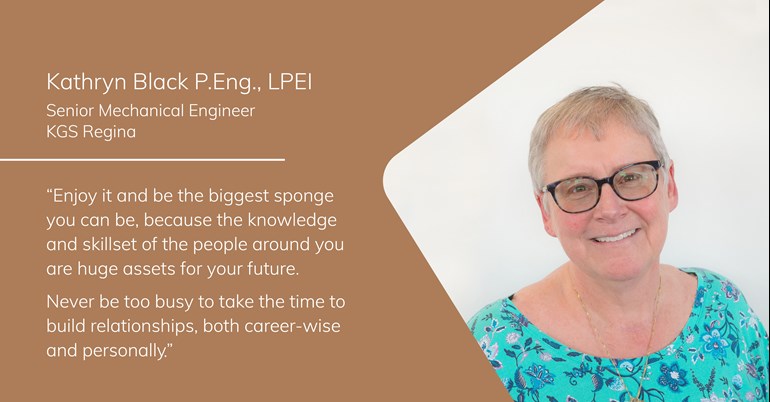 Bianca Sharpe, Structural E.I.T.
KGS Vancouver
After graduating from the Civil Engineering Program at the University of Manitoba, she joined KGS Group as a Structural Engineer-in-Training and currently works in the Hydrotechnical Group. Her experience includes structural assessments of hydraulic structures, stability analyses and design of water retaining structures and dam safety reviews.
Below she shares what change she is still hoping to see in the industry.
"As more women choose to pursue degrees and enter the field, my hope is that this trend continues and that there will be more female leaders and mentors. I personally find it very inspiring to see a woman who is very dedicated to pursuing excellence in the engineering field."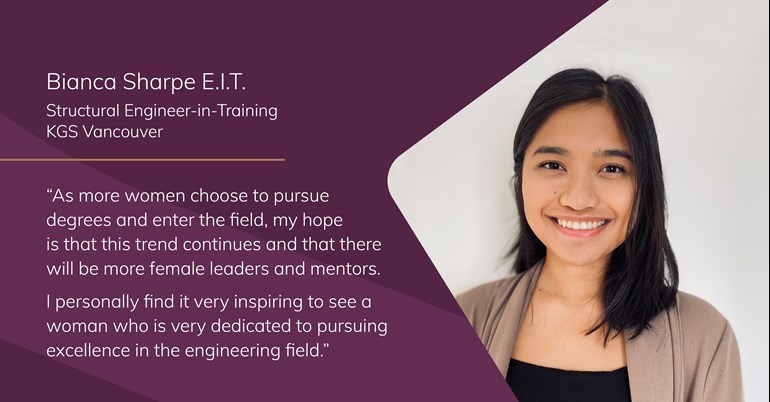 Kripa Mary Jose, Electrical E.I.T.
KGS Mississauga
Kripa is an electrical and computer engineering graduate specializing in power systems. Her research during her master's degree focused on cybersecurity of substation automation systems and power quality. She also worked as a teaching assistant during the program and has previously worked as an electrical designer for conveyor system solutions in the manufacturing industry.
She joined KGS Group in May and spends her days working on specifications, transformer sizing calculations and drawings. Kripa shares her perspective on what change she has seen in the industry towards women.
"The industry has come a long way in supporting women and giving them equal opportunities. I've seen organizations step up with scholarships and cool groups like the Women of KGS Committee to help women engineers grow and succeed. As an electrical engineer myself, I've felt welcomed and even encouraged to go on site visits for hands-on learning. It's awesome to see positive changes happening!"