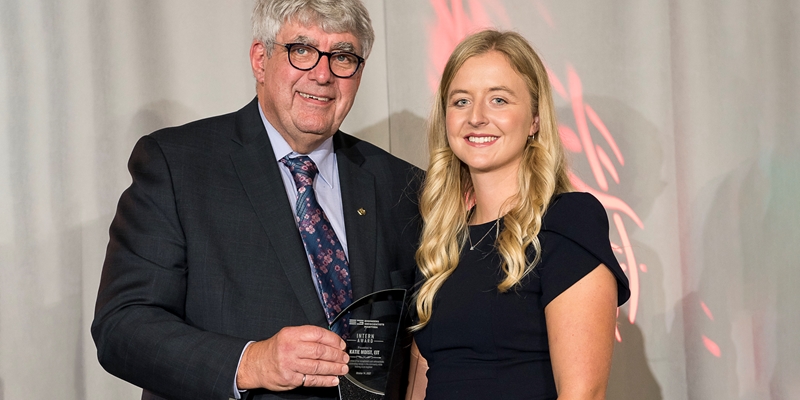 Katie Moist P.Eng. wins the 2022 EngGeoMB Intern Award
KGS' own Katie Moist P.Eng. was honoured with the 2022 Intern Award at Engineers Geoscientists Manitoba EngGeoMB Awards Ceremony last Friday. The EngGeoMB Awards celebrate the exceptional achievements of local professionals, teams and companies.
Katie is actively involved in the engineering community – whether it's supporting young professionals in the industry, offering mentorship to students, or volunteering her time.
As one of the committee members for the Engineering Changes Lives Provincial Steering Committee, Katie works to propose changes that will increase diversity within the field of engineering and helps guide the Committee's initiatives to increase the participation of women entering the field. Katie is also a committee member for the Engineers Geoscientists Manitoba's 2030 Coalition Committee aimed at retaining women engineers in the field.
Katie's volunteer work doesn't stop there. As the Founding Chair of the Young Friends of Engineering, Katie developed a networking group for young engineering professionals to give back to the Price Faculty of Engineering at the University of Manitoba. As the chair, Katie holds a seat on the Friends of Engineering Board, representing the Young Friends and their interests.
In addition to her community work, Katie is an exemplary engineer with several major projects under her belt – including the Wellington Crescent Roadway, Path and Riverbank Stabilization project, the Eagle Creek Drainage System project, and many City of Winnipeg public works projects. In the words of one of her nominators, "Katie has become a valuable member of our team as both an efficient resident inspector and designer. She has had the opportunity to significantly contribute to several notable projects. Without her involvement, KGS Group would not have enjoyed the same level of success."
High praise for the deserving recipient of this award. Congratulations Katie!