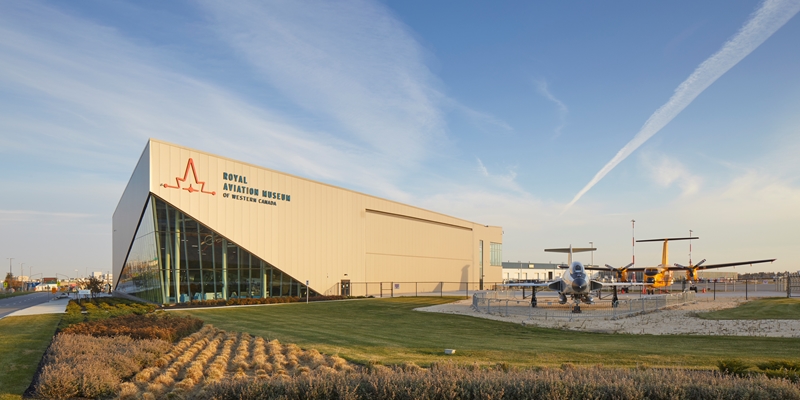 KGS Group wins big at the ACEC-MB Awards
KGS Group won four Awards of Excellence at the annual Association of Consulting Engineering Companies Manitoba (ACEC-MB) Awards! Most notably, the New Museum Building for the Royal Aviation Museum of Western Canada project won the prestigious Keystone Award, which is presented to the firm that achieves the highest score of all projects and is deemed the best overall project.
KGS is honoured to have been recognized for the work done on these four projects. Congratulations to the teams who worked on these projects in all capacities, roles and responsibilities.
Read more about each of the projects and the work our team did below.

New Museum Building for the Royal Aviation Museum of Western Canada
Award of Excellence and KEYSTONE AWARD (Building Engineering Category)
The new Royal Aviation Museum of Western Canada is a world-class, state-of-the-art facility destined to become a signature attraction. At 86,000 square feet, the facility contains more than 20 aircraft, six of which are suspended, 14 galleries, meeting rooms, classrooms, a gift shop and an observation lounge that overlooks active runways.
A multidisciplinary team collaborated to achieve the complex requirements of the museum building and to bring interactive galleries to life, showcasing impressive aircraft displays. KGS Group experts designed an energy efficient facility that targets LEED silver certification and demonstrates a 39.1% annual energy savings in the final energy model.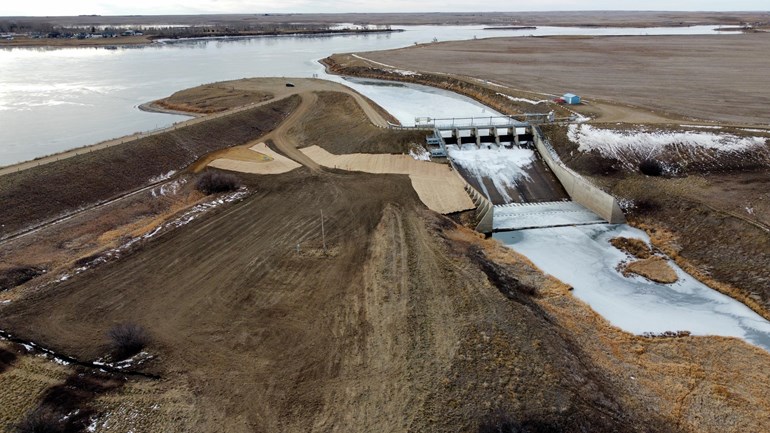 Lafleche Dam Low Level Outlet Conduit Remediation Project
Award of Excellence (Municipal & Water Technology Category)
The Lafleche Dam in southwestern Saskatchewan was originally constructed in 1958. The dam's reservoir (Thomson Lake) is used for municipal water supply, irrigation and recreation. The dam offers flood protection, and its low-level outlet (LLO) conduit is needed for reservoir management and riparian flow passage.
In 2018, an inspection of the conduit revealed severe deterioration of the pipe which presented a significant dam safety risk due to internal erosion. KGS developed a solution using an array of innovative conduit replacement and rehabilitation methods, including trenchless technologies coupled with state-of-the-art instrumentation to monitor the dam during critical high risk construction stages.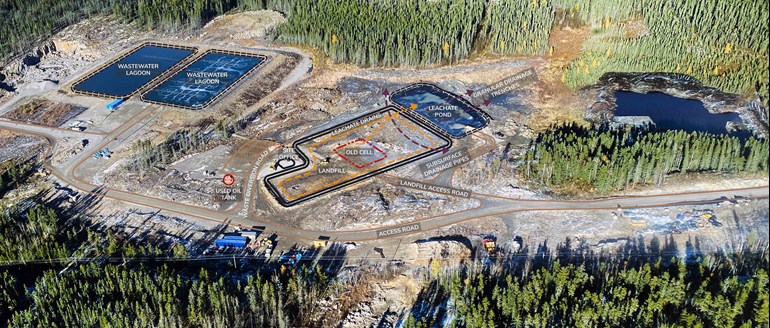 Pauingassi First Nation Landfill Expansion Project
Award of Excellence (Environmental Category)
The Pauingassi First Nation Landfill Expansion Project created a new integrated resource management centre for this remote community. Success was achieved even though the COVID-19 pandemic and 2021 forest fires impacted the schedule. An innovative design overcame challenging site conditions, integrated community requests, preserved local heritage resources and Traditional Land Use Areas, and mitigated existing environmental impacts.
The result is a practical, environmentally sound, sustainable and aesthetically pleasing waste management facility that also addresses waste diversion. This project is a model for successful collaboration between Indigenous communities, contractors, consulting companies and government agencies.



Fort Severn Winter Road Relocation Study
Award of Excellence (Transportation Category)
Winter roads are lifelines for remote northern communities. Climate change has severely reduced the serviceability and sustainability of the Fort Severn winter road that was constructed through organic terrain and lakes. Alternative winter road route options were developed with the community by using climate sensitive routing and construction strategies optimized through geotechnical investigations and a helicopter reconnaissance program. 
The study developed a plan for a climate-resilient winter road network that will enable vital access to the community despite the challenges of climate change. This new approach to winter roads considers environmentally and culturally sensitive areas while setting the community up for future all-season access.