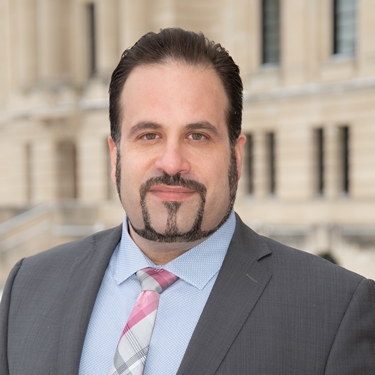 Dino Philopoulos , M.Sc., FEC, P.Eng.
Associate Principal & Regional Manager, Saskatchewan
Dino began his career in 2002 at the University of Manitoba as a researcher and lecturer, while completing his bachelor's and master's degrees in civil engineering. Since 2007, he has made Saskatchewan his permanent home base where he switched focus to consulting engineering and joined the KGS Group Regina office in 2008.
Dino's expertise includes structural design, construction services, project management, contract administration, as well as structural asset rehabilitation and long-term management. With experience in heavy industrial plants, mining, civil structures, bridge engineering, health and educational facilities, commercial buildings, telecommunication structures and real-time monitoring of structures, Dino has developed a diverse skillset enabling him to undertake a wide range of projects. In 2020, Dino was honored with the Engineers of Canada Fellowship for his outstanding contribution to the advancement of the engineering profession within Canada.
As an Associate Principal and Regional Manager of our Saskatchewan offices, Dino works to foster long-term relationships with our people and clients.