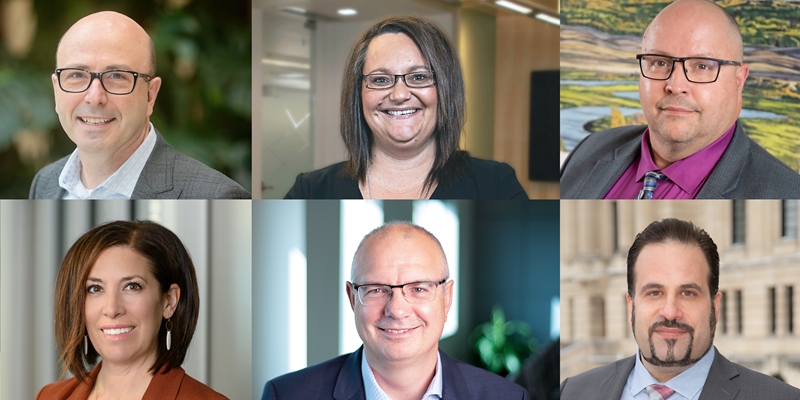 KGS Group promotes six employees to senior leadership positions
Six employees were recently promoted to prominent leadership positions within KGS.
| | |
| --- | --- |
| | Bruce Belmore, P.Eng., was appointed to the position of principal, the most senior role at KGS. A well-known expert in the transportation field, Bruce leads the talented staff in our transportation group who undertake a broad range of projects affecting travel, mobility and safety. He is passionate about transportation and continually strives to make our communities a better place to live, work and play. |
| | Stefan Kohnen, P.Eng., was appointed as a principal. With extensive experience in the development and delivery of complete hydropower projects, Stefan supports the waterpower sector of the firm. He is also responsible for managing the delivery of KGS Group's services from our Mississauga location. |
| | Sean Bayer, P.Eng., was appointed to the position of associate principal. Sean has over 25 years of experience in regulatory, civil engineering, sales and consulting for a wide variety of clients. He oversees our Saskatchewan municipal group and specializes in small to large water treatment, wastewater and civil engineering development projects. |
| | Bonnie Hoffensetz, M.Sc., was appointed as an associate principal. She is a senior environmental scientist and an assistant department head for our environmental department in our Winnipeg office. She has 24 years of experience in the environmental consulting industry across Western Canada and Ontario. Her expertise includes contaminated site assessment, remediation and long-term remedial monitoring programs, as well as hazardous materials assessment and emergency spill response. |
| | Lee Peters, P.Eng., was appointed to the position of associate principal. She is a senior environmental engineer and project manager who heads our Regina geoenvironmental department and also serves as a member of our Board of Directors. Lee has more than 25 years of experience with field work, data analysis and report preparation for a variety of environmental, hydrogeological and geotechnical projects. |
| | Dino Philopoulos, P.Eng., was appointed as an associate principal. Dino's expertise includes structural design, construction services, project management, contract administration, as well as structural asset rehabilitation and long-term management for a wide range of projects. As regional manager of our Saskatchewan offices, he also works to foster long-term relationships with our people and clients. |
"I am excited to bolster our leadership team with these appointments," said Rick Martin, president. "These individuals bring diverse perspectives and a breadth of expertise that will help us keep pace with the ever-evolving needs of our clients."
The newly appointed principals and associate principals will take on more leadership responsibilities at KGS over time and will remain a key part of client projects. Please join us in congratulating Bruce, Stefan, Sean, Bonnie, Lee and Dino on their promotions!